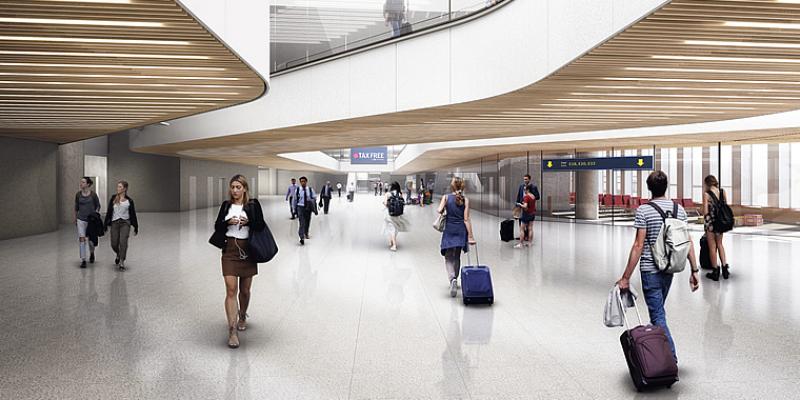 At CPH Airport travelers will soon walk on Faceal Matlook
Written on 12. October 2018

By

Juan Montoya Lopez
Around the clock, thousands of suitcases are dragged across the floors in Copenhagen Airport. The intense traffic is not only a risk of causing abrasions on the surfaces, every day coffees, soda and many other things are also spilled on the surfaces and becoming a cause for staining.
With this in mind it was no wonder that the contractor of the new Finger E – a great expansion of the flow in the landside terminal areas in Copenhagen Airport and the largest project since the 1990s – was looking for a particularly strong floor impregnation.
Walked on for years
Faceal Matlook has already been thoroughly tested in large public buildings such as Dokk1 in Aarhus, The Theater House in Vendsyssel and at various Metro stations. Therefore, there was no doubt that Faceal Matlook would be able to cope with the task in the new part of the airport, which was to be covered with travertine marble. Faceal Matlook even passed the beetroot test.
Approved by PET
But before the work could begin, All Remove's employees had to be allowed to work in the airport – meaning that some of our people was to be approved by PET (Danish Security and Intelligence Service).
In total, approximately 15.000 m2 of floor will be protected with the strong impregnation, which is subsequently applied an extra layer of polish – both to protect further and to make the floor look a little more blank.
The next time you're walking with your suitcase to the gates, you could be walking on Faceal Matlook.