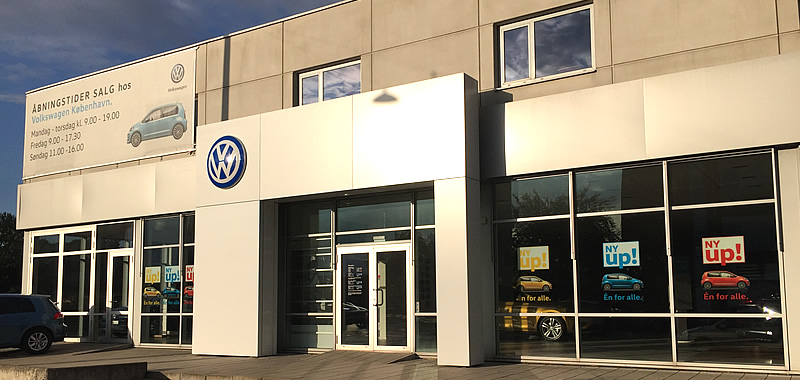 Well-known car dealer's facade still clean after 16 years
Written on 17. September 2017

By

Juan Montoya Lopez
Well-known car dealer's facade still clean after 16 years
During the latest decades a lot of cars has been sold at Tagensvej in Copenhagen.
When the famous car dealer Michael Lassen Automobiler A/S owned the building, it was brands like Porsche, Lamborghini and Bentley.
Today the building is owned by Volkswagen Copenhagen which are selling new and used cars from the well-known address.
Disagreements about concrete protection
Back in 2000 owner Michael Lassen – also know as the king of luxury cars – wanted to protect the building. Its surface should be just as clean and presentable as the cars.
All Remove impregnated the concrete surface with Faceal Oleo. Everything was protected except a toe wall in front of the building.
The problem was that not all agreed that the impregnation would work. Was it really possible to avoid algae, dirt and pollution on a concrete surface for so many years into the future?
Still no dirt og pollution
It's been 16 years now since then and the result of the impregnation is still notable today in 2017. The surfaces are clean and homogeneous.
Even when the building was expanded five years after the impregnation, the old concrete matched the new concrete building.
On the picture above: In front of the VW building is a toe wall which is packed with algae and dirt. This wall wasn't protected. The difference between the protected walls and non-protected is still obvious.